CUBENSIS, the band that plays Dead, had its beginnings in 1987 when a group of Deadhead musicians became frustrated with the Dead's all-too-infrequent visits to Southern California. To fill the gap, guitarist Craig Marshall assembled a group and began to perform at backyard parties and local bars, initially appearing as "Sugar Cubensis" until being repeatedly mistaken for Bjork's band the Sugar Cubes. For clarity the name was pared down to just "Cubensis."

Soon, word got around about this outfit, who used the Dead's music as a skeletal framework for their own improvisational explorations. To this day, you would have a difficult time calling CUBENSIS a "Dead Cover Band" without admitting they have tapped into the same inspirational wellspring as the Masters themselves. As the LA WEEKLY observes, "Cubensis plays with the same laid-back mastery as the Real McCoy." Big Brother Skateboard magazine crowned Cubensis as "the nation's premiere Dead tribute" in their January, 2002 issue.
The Los Angeles-based group has carried the torch in celebration of one of America's most beloved touring bands. CUBENSIS brings the original, organic Grateful Dead concert experience back to life. Drawing from all eras of the Dead, the band performs improvised sets of Grateful Dead and Jerry Garcia Band classics that retain all the spontaneous exploratory jamming for which the bands were renown. However, the music produced is uniquely Cubensis. 
  
Accordingly, the group has been acclaimed for giving new life to the Grateful Dead's material, bringing in new styles, new innovations, and new jam band enthusiasts, while at the same time remaining loyal to the original music and the original fans.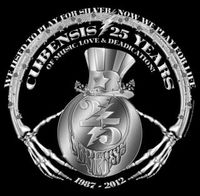 Now celebrating their 30th anniversary, CUBENSIS has been privileged to be joined onstage by numerous rock superstars, including Chris Robinson and Marc Ford (Black Crowes), Warren Haynes (Phil & Friends, Allman Bros.), John Molo (Phil & Friends), and both Vince Welnick and Tom Constanten of the Grateful Dead, as well as Melvin Seals of the Jerry Garcia Band. CUBENSIS has appeared extensively at the Southwest's major venues, including an amazing 50+ performances the House of Blues in Hollywood, Anaheim and Las Vegas. 
Speaking of Jerry Garcia, CUBENSIS guitarist Craig Marshall met him during a shared airplane flight to Eugene, OR for the famous 1990 Dead/ Little Feat pairing. By way of introduction, Marshall said that he was in CUBENSIS, and that they played all Grateful Dead music, to which Garcia replied, in mock surprise, "Oh yeah? So do we!!" Upon that, the two lead guitarists talked shop, and reports of the conversation went viral on the internet. One thing Marshall obtained was Jerry's blessing to perform the Dead's music. Garcia's only requirement was that he "do a good job of it."
Ever since, CUBENSIS has promised authenticity and delivers pure Grateful Dead-inspired music like it was meant to be heard, keeping the Dead alive and re-creating the magic one show at a time. Don't miss it!
| | |
| --- | --- |
| Behind 14 Below in Santa Monica with the Dead's Vince Welnick |            Early Calico desert party, must have been nippy! |
| | |
| --- | --- |
|   A young Nate LaPointe emerges as a great "Bobby-style" guitarist |       Pictured with Justin Pacuska (center), now with Garcia Birthday Band |
P.S. According to information recently received from founding member Chester (original singer/guitarist), the first Cubensis rehearsal was in 1987 in Redondo Beach, CA. Cubensis played a wedding reception for Craig's sister Ellen in May 1988, and the first actual paid public gig was July 27, 1988 at Club Dead in the San Fernando Valley. Cubensis is celebrating its 30th anniversary in 2017. The name Psilocybe is derived from the Greek roots psilos (ψιλος) and kubê (κυβη), and translates as "bald head". Cubensis means "coming from Cuba", and refers to the type locality published by Earle.
| | |
| --- | --- |
| Early promotional literature | An early desert party with Brian Lerman, Sam Wayne, Chester, and Craig |
And the Long Strange Trip continues!!!